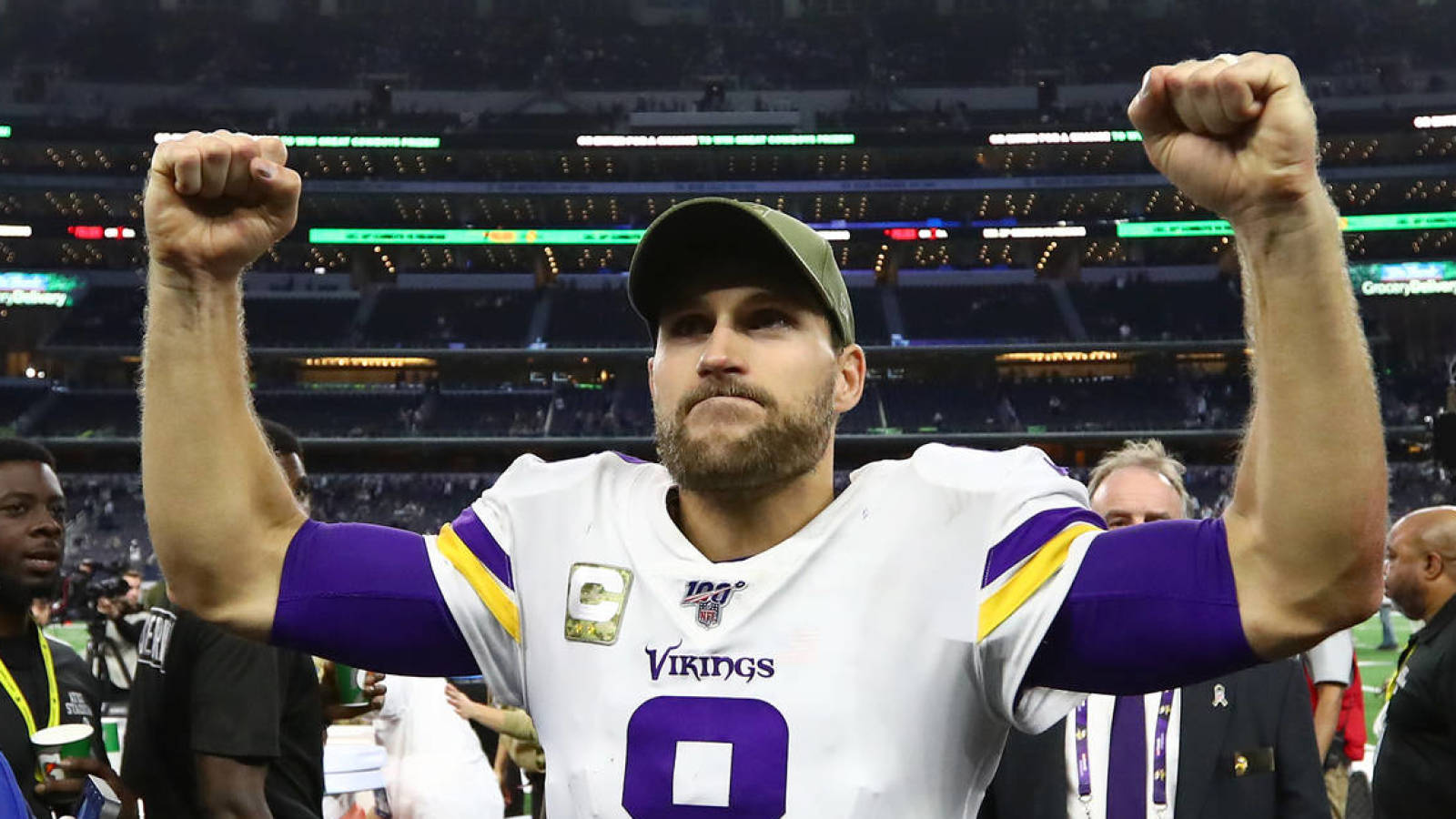 Former NFL scout Matt Williamson writes about the league from an X's and O's perspective. Here's his list of 10 underrated players — six on offense, four on defense:
OFFENSE
Kirk Cousins, Minnesota Vikings, QB
Skill I like most: Toughness
Guess how many quarterbacks have a better quarterback rating than Cousins' 112.0. Two. Seattle's Russell Wilson (114.9) and Kansas City's Patrick Mahomes (114.1). Now this isn't to say that Cousins is on par with those two, but he sure is better than most believe. It's now clear that Minnesota isn't winning despite their QB. Minnesota has an excellent running game, and the offense starts with RB Dalvin Cook, but Cousins is a weapon. He has cut down on his mistakes (just three interceptions) after being one of the most interception-plagued QBs (46 in previous four seasons). Teammates trust and look up to him because of his toughness and competitiveness.
Derek Carr, Oakland Raiders, QB
Skill I like most: Arm talent
Carr is often cast as a "game manager," a guy who too often is unwilling to drive the ball down the field. But only seven QBs have a higher yards-per-attempt average than Carr's 7.8. It certainly helps that Oakland has one of the league's best offensive lines, and the Raiders clearly recognize Carr is far more effective when kept clean. Smart move by them to invest heavily in the O-line. Carr has thrown only four picks this season — he was intercepted 54 times the previous five seasons. What I see is a QB who's meshing with his head coach, Jon Gruden. That marriage seemed doomed after Year 1. Now what once was in doubt seems certain: Carr is the Raiders' long-term answer at QB.
Leonard Fournette, Jacksonville Jaguars, RB
Skill I like most: Power
Many fans perceive skill-position players through a fantasy football lens, so Fournette's output (1 TD) hasn't matched his true value. Entering the NFL, Fournette possessed fantastic power and breakaway long speed. He was an ideal running back … for 1985. To his credit, Fournette, who has rushed for 831 yards, has immensely improved in the passing game (295 yards receiving, eight short of a career-high.) He's an all-around weapon now.
Austin Ekeler, Los Angeles Chargers, RB
Skill I like most: receiving ability
Melvin Gordon is getting back on track and looking like his old self. But when he returned from his holdout, it was apparent that Los Angeles' offense ran far smoother with Ekeler in the backfield. Now, like last season, the Chargers often use them on the field together. Ekeler, who has 899 yards from scrimmage, has outstanding elusiveness and can handle a heavy workload as a featured back, but his best skills are without question in the passing game (57 catches for 599 yards). He has great hands and is a superb route runner whom QB Philip Rivers clearly trusts.
Chris Godwin, Tampa Bay Buccaneers, WR
Skill I like most: Consistency
Most view Godwin (60 catches, 840 yards, 6 TDs) as an emerging player who is becoming a solid No. 2 receiver opposite Mike Evans. The truth is Godwin would be the top dog at his position for about half the teams in the NFL, and is much closer to a 1A receiver. He might not quite be Batman, but he sure isn't Robin. Godwin plays at a high level weekly and is extremely reliable. He runs some of crispest routes in the league.
Allen Robinson, Chicago Bears, WR
Skill I like most: Ball skills
Sadly, Robinson, who has 618 yards receiving this season, has had to play almost all his NFL snaps with Blake Bortles (in Jacksonville) or Mitch Trubisky (in Chicago). That is what we call suboptimal. Heck, even at Penn State he made Christian Hackenberg, the former Jets washout, look like a great quarterback prospect. Robinson is a physical player with excellent movement skills. He is especially good at going up to get a football in traffic.
DEFENSE
Javon Hargrave, Pittsburgh Steelers, DT
Skill I like most: Get-off
Cameron Heyward, T.J. Watt, Devin Bush and Minkah Fitzpatrick get most of the headlines for the white-hot Steelers defense. They're great players, but the defense has several other high-end contributors — including Hargrave. He is a nose tackle in a 3-4 scheme, but he is a much different type than more recent Steelers NTs Casey Hampton and Joel Steed. Hargrave explodes off the ball low with extreme quickness. He has a huge backside that helps him anchor, but also supplies him with power off the snap. NT Stephon Tuitt, out for the season with a torn pectoral muscle, was playing at an extremely high level before his injury. But that loss was a gain for Hargrave, who's playing more than ever in passing situations. His contract expires after this season, so he's going to be difficult for the Steelers to keep.
D.J. Reader, Houston Texans, DT
Skill I like most: Stoutness
Having worked with Vince Wilfork, Texans head coach Bill O'Brien wants a huge power player in the middle of his D-line. J.J. Watt and Whitney Mercilus get the accolades, but their life would be far more difficult without the stoutness provided at the line of scrimmage by Reader. Like most nose tackles, Reader (6-foot-3, 347 pounds) is almost impossible for one man to move in the running game, and he is exceptional at keeping Houston's linebackers free to pursue the ball-carrier. Reader also has good explosion off the ball and pass-rush moves beyond just a bull rush.
Brandon Graham, Philadelphia Eagles, DE
Skill I like most: Hand use
Graham, who made a gigantic strip sack of Tom Brady in Super Bowl LII, still isn't talked about as one of the top defensive ends. Picking a "Skill I Like Most" was difficult for Graham, because he is good in all areas, but he doesn't leap off the screen in one category. A sure tackler, Graham plays the run well and has a wide array of pass-rush moves (six sacks in 2019). I like the way he takes on blockers with his hands.
Eric Kendricks, Minnesota Vikings, LB
Skill I like most: Recognition
Kendricks reminds me of Bobby Wagner in the Legion of Boom days in Seattle. Richard Sherman and Earl Thomas got most of the headlines while Wagner played in the shadows. Once Seattle moved on from Sherman and Thomas, we clearly saw what a great player Wagner is. On a defense with big-game players Everson Griffen and Danielle Hunter at end, Kendricks seems to get lost. But he's playing at an elite level for the league's 13th-ranked unit. On film, Kendricks' great recognition skills stand out against the run — he often looks like he knows what's coming before the snap. His route-reading skills have improved significantly.
Published at Thu, 14 Nov 2019 17:02:00 +0000
Source: https://www.yardbarker.com/nfl/articles/scouts_takes_kirk_cousins_underrated_yup_and_here_are_nine_more_to_ponder/s1_13132_30538058