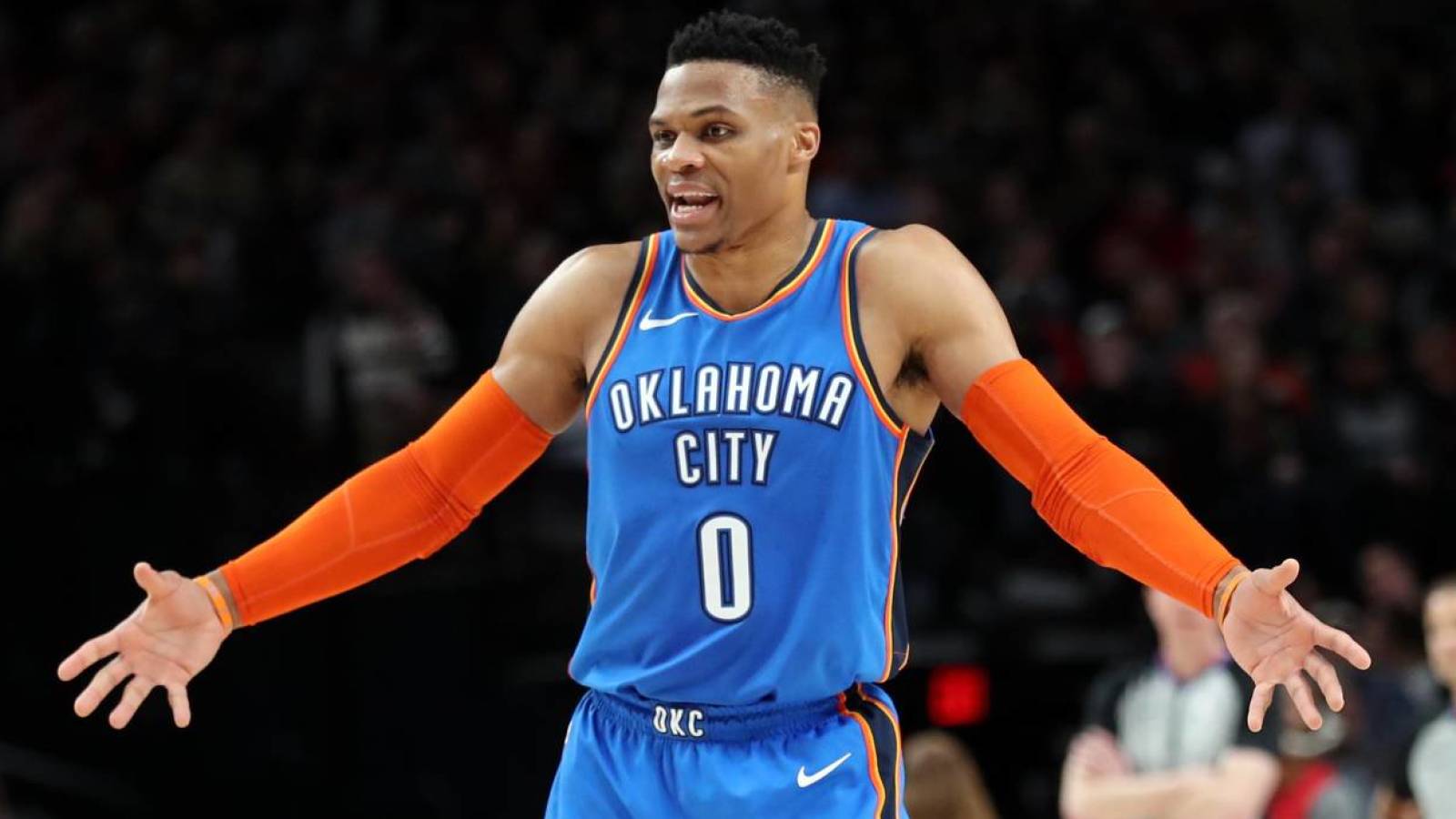 Yardbarker NBA writers Pat Heery and Sean Keane address the hottest issues in the NBA. This week's topic: Where will Russell Westbrook end up?
Heery: Nothing in the NBA lasts forever. Not even the Russell Westbrook era in Oklahoma City. A decade that began with Westbrook, Kevin Durant and James Harden leading the Thunder to the Finals as kids in 2012, and saw each of the trio win MVP awards, somehow yielded zero titles for OKC. If you played this decade out 10 times, the Thunder probably win at least one championship nine times, but for whatever reason, the breaks just didn't fall their way this time.
After Kawhi-ser Söze orchestrated the heist of Paul George, the Thunder appears ready to rebuild and are reportedly working with Westbrook to facilitate a trade to a team with playoff aspirations. While there are definitely some interested teams, Russ' ginormous contract (4 years/$170M), combined with most teams having used the majority of their cap space on the recent free-agent bonanza, makes it difficult to forecast a trade without a little creativity. That's why I'm seeking your help here, Sean. Hit me with a couple of your best destinations and trade packages for Russ.
Keane: I wish I could consult with Kawhi on these potential deals, since he's clearly not content with Finals MVP, and is gunning for Executive of the Year. I also wish Westbrook going to the Knicks were possible, since the Knicks are where the careers of overpaid point guards go to die (Stephon Marbury, Steve Francis, Derrick Rose, etc.) and Russ would start feuding with the NY media yesterday. But thanks to all the Knicks' free-agent deals, they couldn't trade for him until January.
It's hard to see which teams can fit him under their salary cap, and have the confidence or desperation to commit to paying a 34-year-old Westbrook $47 million. But my first instinct is that Westbrook wants to take his talents to South Beach, where they're used to having multiple big stars in one locker room, and they'll appreciate Russ' fashion sense. The Heat would send back the expiring deals of Goran Dragic and Meyers Leonard, plus another young player like Justise Winslow or Bam Adebayo. Miami can't send picks to sweeten the deal, because Oklahoma City already has its first-rounders from 2021 and 2023, but perhaps the Heat could remove protections from those picks. That could be valuable, because Jimmy Butler will be disgruntled again by 2021.
Detroit could make a play for Westbrook, pairing him with Blake Griffin and Andre Drummond, since Blake is used to playing with a temperamental ball-dominant guard (Chris Paul). The Pistons would have to send Reggie Jackson back to OKC, include some draft picks and Luke Kennard –- Detroit previously traded them Kyle Singler, so why not another Duke shooting guard? -– and throw in Tony Snell to make the money work. Or Detroit could make it a true blockbuster and put Steven Adams and Drummond into the trade as well, if only to prevent Drummond and Westbrook from fighting over stolen free throw rebounds.
The Thunder are far too traumatized from the James Harden deal to do another blockbuster deal with Houston, so my favorite destination for Westbrook is Orlando. Some combination of D.J. Augustin, Markelle Fultz, Evan Fournier, and last year's No. 6 pick Mo Bamba could get it done, or if Oklahoma drives a hard bargain, Aaron Gordon. Orlando would finally get a playmaker at point guard, and Russ gets to play with Nikola Vucevic and a squad of lockdown defenders in a state with no income tax. Just imagine the outfits he'd wear to Disney World!
Published at Wed, 10 Jul 2019 14:37:00 +0000
Source: https://www.yardbarker.com/nba/articles/one_on_one_miami_orlando_chicago_where_will_okcs_russell_westbrook_land/s1_13132_29492429